You're probably thinking- it's that time of the year again. How are you going to top your child's birthday party this year? Our kids birthday party guide may be just what you need.
The 10 Best Kids Birthday Party Ideas
If you're running out of kids birthday party ideas in Melbourne, read on as we discuss our top 10 party ideas for a range of budgets.
1. Fancy dress
2.Escape room
3. Animal farm
4. Barbecue and picnic
5. Amusement park
6. Inflatable playground
7. Arts and crafts
8. Glamping
9. Movie
10. Science museum
1. Host a fancy dress party
If your kid has been obsessed with pirates, fairies, dinosaurs or anything else, a birthday is the perfect time for kids to be able to express themselves! Whether you prefer to host a budget-friendly party at home, or splurge on your dream venue, a themed costume party is always a great choice for kids birthday party ideas.
This kind of event can be very no-fuss by simply asking everyone invited to dress up in a costume of their choice. However, if you want to add some fun to it, we highly recommend arranging the decorations and catering around a particular theme. For example, a mermaid party could include sea decorations and blue cupcakes. You could even hire a face painter for added entertainment!
2. Put your sleuthing caps on
For the inquisitive minds, an escape room for kids is the perfect place to host your child's birthday party. Escape rooms such as Escape Rooms Melbourne are great for middle to small sized groups, as multiple rooms can be booked for larger groups to compete against each other. For small groups, one room could be all you need to incite excitement and collaboration. Escape rooms are fun for beginners and seasoned sleuths alike and are great for parents to join in on the fun as well. For full-proof fun, an escape room birthday party is the best option.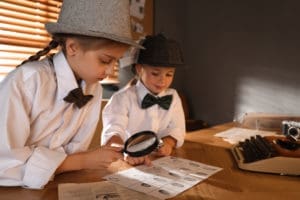 3. Party with animals
If your child is a big softie when it comes to animals, then consider a trip to the farm or the zoo. Both the Melbourne Zoo and Collingwood Children's Farm are popular venues for a kid's birthday party. Deciding where to choose simply comes down to preference. If your kid prefers larger than life animals like tigers and elephants, then the zoo is perfect for their birthday. However, if they prefer their animals to be cuddly and cute then Collingwood Children's Farm hosts petting sessions for their adorable animals.
4. Arrange a sunny barbecue and picnic for the afternoon
If weather permits, a barbecue or a picnic (or both!) outside are great options for budget-friendly kids birthday party ideas. Simply slap on some snags on the barbecue, squeeze it between a piece of bread, add some sauce and arrange the condiments. With this, your kid and their guests will have delicious food in their stomachs and plenty of room to play around.
Make sure you remember to add in some vegetarian, vegan and gluten-free requirements to cater for any dietary restrictions. If your kid is on the pickier side, consider creating a picnic platter. That way, all the kids can simply grab and go with the foods that they enjoy.
5. Enjoy a day at Luna Park for your thrill-seeking kid
If relaxing besides a picnic basket doesn't sound like something your kid will enjoy, pump some adrenaline into your child with a trip to Luna Park. Amusement parks are great kids birthday party ideas for active children. Let them expend their energy for the day on rollercoaster rides, horror rides, and much more. For a memory they will likely never forget, make Luna Park a bonding experience for your child and their guests.
6. Bounce around on inflatables
For a less scary, but still incredibly active birthday, head to your nearest inflatable playground. These supervised play spaces are great fun for kids and adults alike. If you're looking for kids birthday party ideas, this is one you'll want to consider. Often inflatable rides also have private rooms to host kids parties when they feel tired from all the bouncing and want something to eat. This makes inflatable playgrounds great for birthday parties.
7. Get silly with paint
For something calmer, an art-focused birthday party is another option for your creative kid. Without spending too much money, you can host an arts and crafts day at home with a few DIY activities. For example, canvas painting, DIY card creation, and origami are all arts activities you can do at home. If you would prefer to leave the teaching to actual artists, your local community will often have local art workshops. These workshops differ, but are all fun activities including making DIY mosaics and more sophisticated paint lessons.
8. Go glamping in the woods
Okay, so maybe camping in the middle of nowhere with a bunch of little ones sounds like a recipe for disaster. But what about glamping? For a nature escape with all the luxuries and amenities included, glamping is a great option for your kid's birthday party. There are many child-friendly glamping areas in popular scenic areas near Melbourne, such as glamping in the Dandenong Ranges or near the Great Ocean Road. For a cheaper option, or if you would prefer to be close to home, you may like glamping at home. Set up a tent in the backyard and add some fairy lights to turn your little ones' birthday into the best sleepover ever.
9. Grab some popcorn and watch a movie
For large groups, cinemas such as Hoyts have cool birthday party packages that include snacks and a private cinema. You can also host a movie night at home with only an internet connection to a streaming service and some snacks. To make it even more enticing, you can even hire a movie projector or pop up cinema screen to get the full cinematic experience at home.
10. Raise the next Einstein at Scienceworks
Leave the planning at home and let your kids run wild. Scienceworks has cool experiments, awe-inspiring robotics and even a planetarium that's out of this world! As such, your kid and their guests will never get bored throughout the day. You don't want to miss the lightning room where kids come face to face with booming sparks!

The Final Word
This list is a helpful kids birthday party guide for Melbourne residents. While not an exhaustive list, our top 10 shows you the best options for party planning with little fuss. Where will you celebrate next?
Need more budget-friendly party planning ideas? See our guide for cheap birthday party ideas.
Want more ideas to keep the kids entertained? View our blog on Boredom Busters For The School Holidays